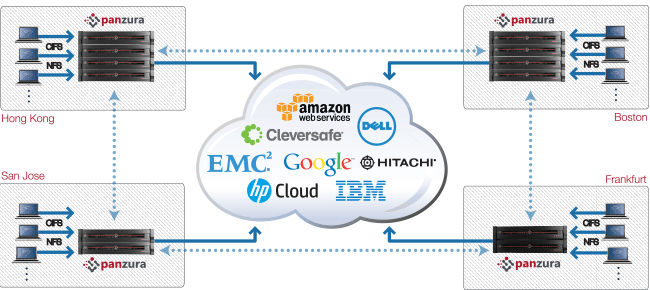 Enterprise Cloud Storage is the recent web hosting service that finds wide application in almost all fields that need easy storage and retrieval of data and its management. Managing your data in the storage facilities offered by the enterprises of cloud storage is in every way efficient and user friendly. This mode of storage has the advantage of being the fastest and safest among all the storage modes. In addition, the data can be accessed easily and quickly across the world with the help of the multiple regions' hosting choice.
Mode of Storage
Companies ensure that the infrastructure used for this storage to be state of the art, as it requires the data to be stored and retrieved without any obstruction and spillage. The space available for storage is more often unlimited. You need to pay only for the space you use though.  Content can be stored and delivered in high quality with well organized archival facility.
There are companies like Google that provide infrastructure for the enterprise cloud storage. This is also made scale-able and secure.   Yet there are people who raise doubt about cloud storage systems. They come to an understanding when they know the advantages of the cloud storage system as it is an excellent option when there is need for recovery during disaster. Since the providers know the need for security, reliability and freedom, they offer a stage approach to taking the data from archive to cloud storage step by step and have a backup for all live storage.
Nature of Services Offered
The cloud storage providers offer their product and services as a replacement for the conventional method of storing data, where the data is stored in a tape or disc. They also make the client aware of the nature of the cost involved when storing using this method as opposed to the other method of storage.
There are many advantages in the operation of cloud storage. You can manage your entire data from a single console, wherein you use a single board from where you can control the entire system. There are options for archiving, recovery, replication, management of the data stored and retrieval and search applications. The built-in duplication services enable the automatic backup and so you can be sure of the safety of your data.
Personalized Enterprise Cloud Storage
Individual business needs call for different mode of cloud storage. There are public cloud storage, private cloud storage and hybrid cloud storage to suit your business types and needs. The cloud storage companies have data storage facilities in different areas to provide the more personalized type of data storage system you opt for. All these added advantages come with a scale-able usage and pricing mode, security at different levels, file transfers that are unlimited and without any additional costs and renewal charges.
There are enterprise cloud storage systems that provide on demand storage to provide offsite backup capability to enterprises. The step-wise procedure involved in this is easy to understand and it makes the business move from archive to cloud storage without any hassle.